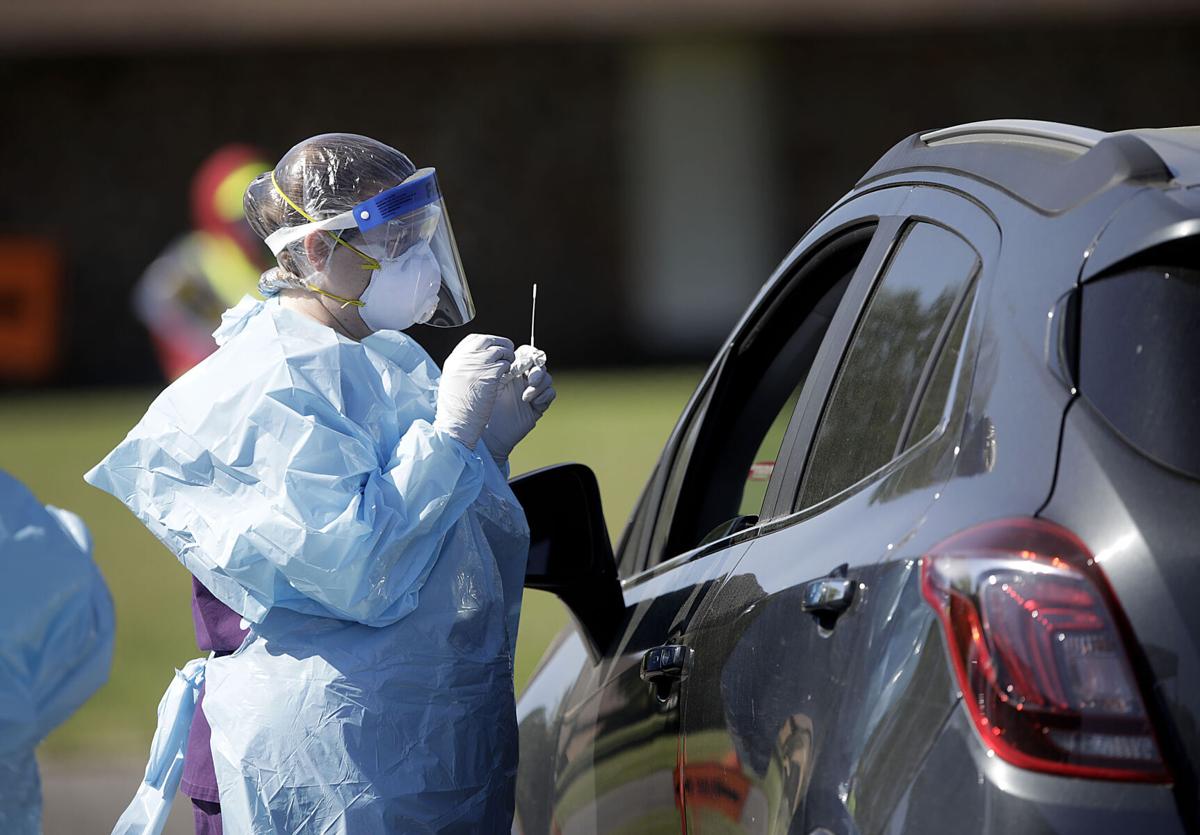 A University of Oklahoma epidemiologist projects the state will reach COVID-19 herd immunity in the next six months or sooner but not yet achieve normalcy as we continue to unravel unknowns about a novel virus and our future with it.
Dr. Aaron Wendelboe, an OU public health professor, says he believes the worst of the pandemic is behind us, but we can't let down our guards by removing mitigation efforts as variants of the virus circulate.
Wendelboe noted that his models indicate more than half of Oklahomans have some level of immunity either through infection or vaccination — not yet the likely 65% to 75% he estimates is needed for herd immunity.
"One of the benefits I think of where we're going is that by this fall I think it'll be safe for our students to return to the classroom," Wendelboe said, noting that life will improve but very likely still won't be normal in six months. "But I want everyone to keep in mind that I don't think that the country — let alone the rest of the world — is going to get to herd immunity so quickly."
Several OU public health and medical experts hosted a virtual roundtable discussion Friday with reporters to opine on a trying year of living in the pandemic.
Dr. Jabraan Pasha, OU Health Physicians-Tulsa hospitalist, reflected on how fragile life and convenience and comfort are amid the unexpected — even in America.
Pasha noted that for himself, even as a physician compared to a lay person, watching the scientific method play out in real time is frustrating.
But it also offers a better appreciation of what scientists do behind the scenes, he said, particularly with so much work still to do.
'We don't know the long-term effects'
There is the more short-term race to vaccinate as many Americans as possible before the variants have a chance to cause a resurgence, along with research to see what vaccine tweaks might be helpful as the virus mutates.
But scientists in a longer run are trying to unlock the disease's harmful lingering effects that appear in a subset of those who have been infected.
Long-haul COVID in adults — disease symptoms that can last for weeks or months or longer — and multisystem inflammatory syndrome in children (MIS-C) are two unknowns that have more questions than answers.
Pasha said there needs to be a large focus on figuring out the long-term ramifications of COVID-19 infections for several hundred thousand in the U.S. and millions around the world.
"Talking with lots of people and the patients that I have that are still struggling six months after COVID," Pasha said. "Some not even being able to keep their eyes open they're so fatigued, people still having respiratory issues."
Multisystem inflammatory syndrome in children is a condition where different body parts can become inflamed, including the heart, lungs, kidneys, brain, skin, eyes, or gastrointestinal organs, according to the CDC. Symptoms include fever, abdominal pain, vomiting, diarrhea, neck pain, rash, bloodshot eyes or fatigue.
Dr. Donna Tyungu, Oklahoma Children's Hospital infectious diseases specialist, noted that an original report done on children in April found that about 1.7% of all COVID-19 cases were kids.
Today, Tyungu said, the figure has risen dramatically to 13% of total cases, or more than 3 million children infected in the U.S.
Some of those develop MIS-C, she said, and of those some come away with permanent damage.
"The first cases of MIS-C were seen in March, we're to the point that we do know there is some fibrosis of the myocardium (scar tissue on the heart) that can happen, which is permanent," Tyungu said. "So those children would need to follow a cardiologist for the rest of their lives.
"Some children we treat them and they completely resolve all their symptoms, but COVID-19 in general we don't know the long-term effects of at this point."
'It's not going to go away'
There is still discussion as to what sort of seasonality COVID-19 might lend itself as the virus now is destined to be among humans for a long while.
Dr. Dale Bratzler, OU's chief COVID officer, said COVID-19 isn't going to go away even though we're moving the right direction.
Bratzler cautioned that the 1918 flu pandemic had a lull before it struck again. If there is seasonality in play, there could be another outbreak once fall or winter arrive, he said.
"I tell the medical students it'll be in their differential diagnosis now for the patient that comes in with a viral illness and respiratory failure for many years to come," Bratzler said. "We will likely see perhaps community outbreaks of COVID-19 in the future just like we've seen with measles when communities aren't vaccinated.
"So it's not going to go away. I think we're all very optimistic that things are improving, but I agree with others that we can't let our foot off the gas yet."
More funding, less politics
Wendelboe, who also the state's former epidemiologist, emphasized that how well society and governments choose to value and fund the "invisible" aspects of public health in the future will be a critical determinant.
The visible aspects are vaccines and hospitals, he said, but the invisible — and incredibly important — are disease surveillance and reporting mechanisms.
The public health infrastructure remains poor, Wendelboe said. For example, he said we can quickly use smartphones in a grocery store to check to see if an item is available and on which aisle.
Disease tracking? Not so much.
"But the technology that we have to get reports about a positive case and then determine what their risk factors were, if they've been in a bar or at a restaurant, and then share that with the other counties and the CDC — we were working with technology that was decades old," Wendelboe said.
He said we must take a closer look at the invisible parts to better fund a robust public health infrastructure and shift the focus to disease prevention, rather than waiting until people are sick to intervene.
Another key aspect to improve is removing partisan politics from public health matters, which Pasha said he feels led to some of the pandemic struggles.
"If we can give the facts as they are without a political weight behind them, I think that's something we can all take home," Pasha said.