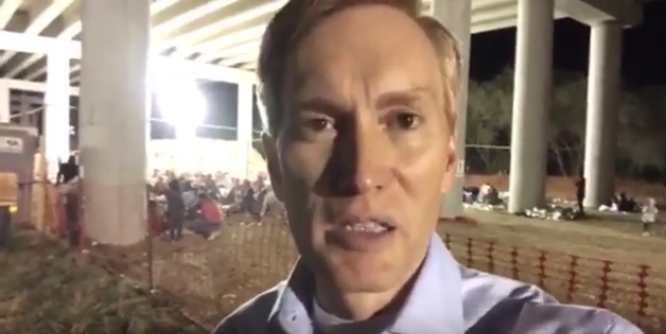 U.S. Sen. James Lankford briefed the press Wednesday on his recent trips to the southern U.S. border, detailing the large numbers of illegal crossings and describing the treatment afforded asylum seekers, many of them children, as a "human tragedy."
Lankford, R-Okla., has traveled to Nogales, Arizona, and McAllen, Texas, in recent weeks to view border operations. Thousands of migrants have arrived at the border there.
He said construction on a border wall near Nogales stopped Jan. 20, the day President Joe Biden was sworn into office. The move left large gaps in the wall where gates were to have been installed for maintenance purposes, Lankford said.
"They were literally in the process of constructing the gates on Jan. 20, and it just literally stopped that day," Lankford said, referring to contractors.
"Border Patrol there is extremely frustrated," he said. "The fence, the way that it is now, they are having to assign a Border Patrol agent to just sit in all those openings."
Lankford called for construction on the incomplete wall to resume.
He also described his experience when he traveled last week to the border in McAllen as part of a delegation of U.S. senators led by Sen. Ted Cruz, R-Texas.
On one YouTube video, Lankford is seen standing under a bridge spanning the Rio Grande.
He described the process where immigrants walk across the border and are met by a Border Patrol agent before being processed, driven to a bus stop in McAllen and released.
"This is what open borders really look like," Lankford said.
Unaccompanied children are being crammed into facilities that are now overcrowded, he said.
One pod designed to hold 80 children had more than 700 when he visited, he said.
"It is a real human tragedy the way they are being handled when they get here," Lankford said.
He blamed the Biden administration's decision to relax asylum rules for the recent increase in crossings.
Biden said Thursday that the government is taking steps to move hundreds of migrant children and teenagers out of cramped detention facilities more quickly.
The Biden administration has also said it expels nearly all single adults without an opportunity to seek asylum under a public health order issued at the start of the pandemic. Those expulsions make up about 2,200 of the roughly 5,000 people encountered per day to that point in March, the Border Patrol official said last week.
Lankford said he favors increasing personnel and technology needed to keep up with border crossings. He said the border wall needs to be completed.
"All of the Border Patrol folks I talked to all said, 'We need personnel; we need technology; and we need infrastructure,'" Lankford said.
When asked about solutions to what many are saying is a border crisis, he mentioned former President Donald Trump's now-shelved policy of requiring asylum seekers to apply for relief while outside the U.S. rather than after crossing the border.
Lankford said the "remain in Mexico" policy for asylum seekers that was enacted by the Trump administration could be enhanced with video technology.
Currently, Lankford said, migrants are being allowed into the country without any "initial hearings" to determine the validity of their asylum claims.
"When that happens, people pull out their cellphones; they text people back home immediately and say, 'I'm in. Here's how to do it, and here's what to say to accelerate that process,' exactly what we saw in 2014," Lankford said, referring to immigration trends after President Barack Obama announced plans to expand the Deferred Action for Childhood Arrivals program to include additional undocumented immigrants.
Lankford said he also approved of increasing resources to immigration courts, where the backlog to hear a case can be up to three years.
---
Related video: Sen. James Lankford describes scene at U.S.-Mexico border
Photos: Scenes from the U.S.-Mexico border amid rise in migrant crossings