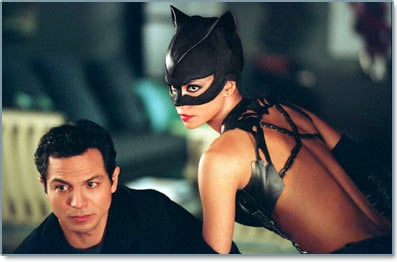 Hair ball
A declawed 'Catwoman' slinks into theaters
Bad kitty! Get off that screen!
The legion of anonymous nerds (OK, four anonymous nerds) who recorded their quavering outrage on newsroom voicemail last summer when we told the ugly truth about "The Hulk" may as well sneak Mom's cell phone out of her purse right now, because another funnybook movie's about to be trashed.
Of course, in this case that's pretty light duty for a reviewer, since -- thanks to the sloppy work of its writers and director -- "Catwoman" was already pretty well trashed before it ever made it to the screen.
Those who remember Michelle Pfeiffer's movie-stealing turn as Catwoman in the 1992 "Batman Returns" won't find any of that film's edginess, sense of humor or just plain entertainment value here. Truth be told, they won't even find Catwoman.
You see, this isn't the Catwoman who's been sharpening her claws on a certain caped crusader since 1940. This is just a Catwoman, who's licensed her name from DC Comics but taken most everything else from every lousy B-grade vigilante movie the screenwriters have ever seen. (They may have ripped off the old '50s drive-in horror schlocker "The Leech Woman," too, though that's probably giving them credit for more industry than they deserve.)
The movie revolves around a dowdy little mouse of a woman played by Halle Berry. (Stop laughing, I'm serious.)
After she accidentally stumbles upon some evil corporate types' evil corporate secret, she's murdered by an evil corporate hitman. Fortunately, a really ugly cat with mystical powers happens upon her corpse and breathes life back into her, along with a complete set of awesome kitty cat-type powers.
Before you know it, she's lost her dowdiness and blossomed into, well, Halle Berry. But it's Berry with the computer-generated ability to scale walls and race around rooftops on all fours like Spider-Man on a bender. It's also Berry in a skimpy leather dominatrix outfit, which the aforementioned nerds have probably already checked out fairly thoroughly on the Internet.
Oh, did I mention that the kitten has a whip? Of course she does.
But for too much of the movie, it's also Berry without a mission. We waste a lot of time watching her doing cute cat-type stuff like landing on all fours, going nuts over catnip and hissing at passing dogs. Along the way, she also learns some gobbledygook about ancient cat magic from "Six Feet Under's" Frances Conroy and picks up a police detective boyfriend played by Benjamin Bratt.
When Catwoman is accidentally blamed for yet another evil corporate murder, out of all the cops in the city, it just happens to be his assignment to bring her in.
We do eventually get to the main plot, which involves a dark conspiracy by a cosmetics firm. (Didn't I just tell you to stop laughing?) Life's too short to go into the details, but it's really evil. And really corporate. And though it seems to be related to the film's once-over-lightly attempt at delivering a feminist message, the writers' determination to climax the whole thing with a hot catfight renders their own shaky stab at relevance utterly irrelevant.
What's frustrating about "Catwoman" is its complete waste of onscreen talent by the folks behind the scenes. The script is recycled by-the-numbers drek without a single good line or a character who isn't a tired cliche. And while the scenes were shot with the lights turned on and appear to have been pasted together in the correct order, the director otherwise has done absolutely nothing to help his cast survive this mess.
Halle Berry is a lovely woman with charisma to burn and definite acting ability -- but even the best actors sometimes need to be told when they're making fools of themselves.
No one's done that here; instead they've left her to go over the top constantly with overly choreographed feline movements and pseudo-Eartha Kitt line readings. The same goes for Lambert Wilson's arch turn as the evil corporate honcho and Sharon Stone's Mommy Dearest-channeling performance as a former model who's been abandoned with the coming of middle age. The overall effect is that of a lot of talented performers who have been given nothing but stupid things to do, with no one looking out for them.
To be fair -- not that this movie deserves it -- my 8-year-old son thoroughly enjoyed the movie's dopey humor and frenetic action. Anyone under 12 probably would, not to mention four other guys I can think of. But discerning adults are unlikely to find much in "Catwoman" that won't rub them the wrong way.
---
---
Movie Review: 'CATWOMAN'
Halle Berry, Sharon Stone and Benjamin Bratt
Southroads 20, Eastland, Tulsa, Starworld 20, Owasso, Allred Pryor, Sapulpa 8 and Cinema 8 (Broken Arrow, Sand Springs)
PG-13 (action, violence and some sensuality)