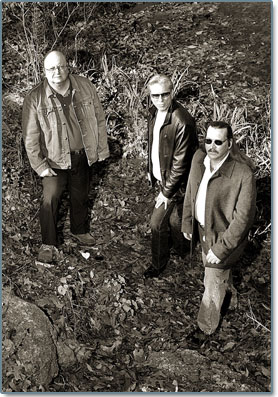 Legends of the Tulsa Sound regroup once more for annual reunion concert
Every year or so, under the auspices of his music ministry, native Tulsan Phil Driscoll travels to Tulsa from his Tennessee headquarters to play for his friend Bob Yandian at Grace Fellowship Church. Sometimes, he does his concert at Victory Christian Center.
But when the famed trumpeter comes to Tulsa on Friday as a guest star for the Tulsa Sound Reunion, he'll be in a venue he hasn't seen for a good long while.
"The last time I was in the Cain's Ballroom, I was with Joe Cocker," Driscoll said with a chuckle during a recent telephone interview. "That had to be somewhere around '73 or '74.
"I've got some stories about the Cain's," he added. "Everyone who ever played there has some stories about the Cain's."
Undoubtedly, he also has stories about some of the other musicians who'll be sharing a stage with him Friday night. Keyboardist Dick Sims and drummer Jamie Oldaker, who both plan to be there, went on the road with Driscoll right out of high school.
"We did the next-to-last 'Ed Sullivan Show' with Phil," remembered Sims, who invited Driscoll to participate in the reunion this year. "What a treat it was to play that show. We did it live with just the trumpet, organ, drums and a percussionist. I went out with Phil after my senior year; he hired me after my junior year, but I promised my dad I'd finish high school."
"I haven't seen Phil in the longest time, but I've kept up with what he's doing," added Oldaker via phone from Nashville. "He's a wonderful entertainer, his ministry's great, and he's a great guy. I'm very proud of him."
Tim Kassen is the show's coordinator this time around, a task he likens to "herding cats." He and Oldaker go back 40 years, when the two pre-teens played in their first group together.
"I was 11, and Jamie's mother used to haul us around in her car," he recalled. "We'd put the trap set in the back seat and ride up front with her."
He said that this particular event celebrates "the Tulsa Sound of the '60s, '70s and '80s" (although scheduled performers Jim Karstein, Chuck Blackwell and Larry Bell have their roots in the original Tulsa Sound of the '50s) and that the audience "will see the musicians involved in exporting the Tulsa Sound to famous acts, the sidemen who worked with everyone from Bob Seger to Eric Clapton. Clapton thought the Tulsa Sound was important enough to hire a whole band of Tulsa musicians (including Sims and Oldaker)."
There'll also be some well-known front men on the Cain's stage Friday, including Driscoll, Dwight Twilley, Scott Ellison, Don White, Glenn R. Townsend, Jim Sweney and Chris Campbell.
"There really was a whole Tulsa thing that was totally different," Driscoll noted. "It had a little R&B in it, a little country, a little jazz, and it swung, but it swung on the rock side of life.
"I used to be able to hear someone play and pretty well nail within 100 miles where they were from," he added.
"There's something that comes out of the earth where you make the music you make, and the Tulsa soil had something different from anything else. It's still in my music today.
"And it's in things like that little thing Dick did with his left hand in 'Lay Down, Sally' -- all those Eric (Clapton) songs. He learned it from Skip Knape (of Teegarden & Van Winkle) and made it his own."
"Yeah, Skip came up with that," agreed Sims. "We called it a 'shuck.' It's a rhythm thing, like you're playing a percussion instrument. You bounce your wrist off the wood that holds the bottom keyboard, the rim, and you're also hitting chords -- and playing with your right hand, too. If you get that going, it's like another instrument."
Knape won't be at the Friday show, but his partner in Teegarden & Van Winkle, drummer Dave Teegarden, will be featured, along with nearly two dozen other musicians.
Kassen noted that the whole package was a gift from the Rodgers family, owners of the Cain's Ballroom, to the Tulsa musical community and the fans, and he believes it's something that's important to continue.
He certainly isn't the only one.
"Jamie Oldaker called me and said, 'Tim, it's very important that we put this on every year as long as we can, just to be able to have a reunion," Kassen said. "He said, 'We're all getting older, and we're losing people.'
"He was right. We've lost four since the last one: John Henry, Flash Terry, Valentino Pina and Debbie Campbell. Debbie was supposed to sing last year, but she was too sick."
"The main reason I'm coming back is just to see everybody," added Oldaker. "Jim Byfield, Dickie Sims -- to me, everyone's still the same, you know? Some are heavier, some have less hair, but they're the same. It's wonderful.
"We're trying to get as many musicians out there as we can," he concluded. "If you want to come up and play, you're welcome. If you don't want to play, just come out and check in. Show your face and say, 'Yeah, I'm here. And I'm OK.'"
---
TULSA SOUND REUNION
featuring Phil Driscoll, Jamie Oldaker, Dick Sims, Jim Byfield, Walt Richmond and many others
Where: Cain's Ballroom, 423 N. Main St.