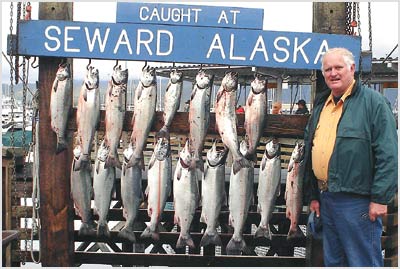 My wife, Mari, and I returned recently to a place I had fished several times in the past, the Kenai River at Seward, Alaska. I had fished there before with sons and a grandson, but this visit was only myself and my wife of 42 years.
We were welcomed at 6 a.m. at Bing Point by Fenton Brothers guide Dave Essert, and off we went on a misty 45-degree morning. Dave kicked in the motor, and with six layers of clothes and our backs to the wind, we headed out on our adventure.
When we settled in at a favorite spot, the guide set us up with rod/reel and instructions on how to use them. What was extraordinary was the fact we were seeing many fish. Most were salmon, whose bodies were a pale red with green heads.
Many of the spawning fish were near the end of their passage home, with the circle of life continuing. The salmon were traveling in large schools very near the shore.
We would cast from the boat, but the fish seemed uninterested in our shiny lures. We had to really work to get their attention, in just the right spot. When hooked, they put up a good fight and most were keepers. They averaged about five pounds.
As time went by, we also caught some trout, which had to measured, and if over 16 inches in length they had to be released immediately. We finally caught some smaller trout, which we kept and enjoyed for dinner in following days. We do really enjoy eating trout as well as salmon.
Generally, I hate "the one that got away" stories, but such an incident was part of this outing.
We later moved to another spot, where I soon caught a big silver salmon. Within minutes I had another good one, but this fish was fighting much harder and somehow got around to the back of the boat.
The line got caught in the motor, and the fish was instantly gone.
We were both disappointed, but the guide let out an emotional "Oh, no!"
That caused me to apologize for losing the fish, but he wasn't worried about that. The lure, however, was a handmade Japanese imitation that our guide said was very hard to come by, and expensive. We tried to make it right with him, but he apologized and said he had just over reacted.
Later, we found a beautiful spot on shore for lunch, and by then the weather had warmed enough we only had on light jackets. Overhead, a magnificent bald eagle watched us as we caught several salmon from the bank. We returned them all to the water, as the guide said they would not be good eating. They were near the end of their long, dying run.
We did not catch any really large, memorable fish. But we enjoyed a lovely day, on a beautiful river, in a far away port of call.
All in all the outing left us with great memories we will share for a long time.