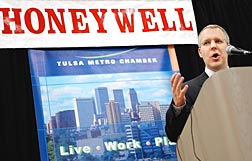 Gov. Brad Henry takes part in the announcement Friday that Honeywell Lori Inc., a division of Honeywell Aerospace, will add 100 jobs at its facility in the Cherokee Industrial Park.
---
Honeywell Lori to work on plane part
Honeywell Lori Inc., the Tulsa company that repairs heat transfer components for the aerospace industry, will begin overhauling aircraft electric generators and add more than 100 jobs over the next four years, executives said Friday.
Honeywell Lori, a division of Phoenix-based Honeywell Aerospace, employs 170 people at its 140,000-square-foot plant at 6930 N. Lakewood Ave. Honeywell Aerospace is a subsidiary of Honeywell Inc., the $22 billion diversified technology and manufacturing company based in Morris Township, N.J.
Gov. Brad Henry, Mayor Bill LaFortune and U.S. Rep. John Sullivan, R-Okla., were among 200 civic and business leaders and Honeywell Lori employees who gathered at the company's plant in the Cherokee Industrial Park to hail the announcement of new business.
"It's my honor and privilege to be here and help celebrate this wonderful expansion, this precious jewel . . . for Tulsa's economy," Henry said. "The competition for Honeywell Lori was very very stiff. . . . The reason Tulsa and this particular facility won this project is because of the technical skill and hard-working work force of this plant."
Tulsa and northeastern Oklahoma's rich aviation heritage, skilled labor pool, abundant resources, low taxes and affordable housing are key factors that can continue to fuel job creation and business expansion, the governor said.
"Oklahoma is literally bursting at the seams with excellence," Henry said. "We are a proud people and this is a proud state, and there's nothing we can't do."
The importance of aerospace to the Tulsa area is clear, Sullivan said. More than 32,000 jobs, 300 companies, a $3.3 billion annual economic impact and a payroll of $960 million underscore the industry's preeminence, he said.
"We need to do all we can at the local, state and national level to grow incentives for aerospace businesses," Sullivan said.
"We have to come up with a national aerospace policy that includes less burdensome regulations to keep those people back there employed," he said, referring to Honeywell Lori workers.
LaFortune said his administration's top priority is to create a business-friendly environment in which existing companies can thrive. A skilled work force and one of the best work ethics in the country will continue to be a magnet for companies like Honeywell, he said.
"What happens when you add 100 jobs to the city of Tulsa is an $8 million economic impact to the area in direct and indirect jobs," LaFortune said.
Brian Couch, Honeywell Lori's general manager, said the company chose Tulsa because of the local company's reputation for customer service and a skilled labor pool, as well as the assistance provided by the Oklahoma Quality Jobs Program and Tulsa Technology Center.
Jay Clemens, president and chief executive of the Tulsa Metro Chamber, said Honeywell Lori contributes diversification to the local economy.
Bob Ball, economist for the Tulsa Metro Chamber, said the aerospace industry is the city's largest employer. Telecommunications, which many believed would overtake aerospace until the dot-com bubble burst three years ago, now employs fewer than 15,000 people in the area, Ball said.