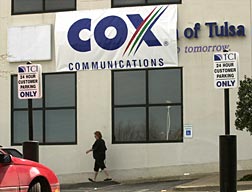 AT&T's sale of TCI Cablevision of Tulsa has been completed.
Cox Communications Inc., the $2.3 billion Atlanta-based telecommunications company that completed the acquisition of TCI Cablevision of Tulsa last week, will extend digital cable television, high-speed Internet and digital telephone service to all city residents by year-end, company executives said.
Dave Bialis, vice president and general manager of Cox Communications- Oklahoma, said Cox assumed control of the 167,000-customer TCI network at 12:01 a.m. March 15.
Under terms of an agreement reached between Cox and AT&T Corp. last July, Cox exchanged AT&T stock valued at $2.7 billion for cable television systems in Tulsa, Baton Rouge, La., Texas, New Mexico, Arkansas, Utah and Nevada.
"Clearly, our first order of business is branding -- changing the names of TCI to Cox on trucks, uniforms, on- air spots and signs," Bialis said. "We are going to aggressively finish the network upgrade to a state-of-the-art broadband fiber-optic product so that when you have the bandwidth, you can offer digital cable TV, video, high- speed Internet and telephone service."
About half of the $84 million TCI- Cox cable network rebuild has been completed in Tulsa. Most of west and north Tulsa and parts of central Tulsa north of 41st Street have been upgraded to high-speed service. South Tulsa, from south of 41st Street, east of the Arkansas River and west of U.S. 169, has not been rebuilt, company executives said.
"We just released 5,000 Sand Springs homes for broadband services," said Bill Severn, Cox Communications' director of marketing. "Owasso, Broken Arrow, Jenks and Glenpool probably will be part of the rebuild next year."
The faces in the executive suite, the company logo onscreen and the name on the billing statement have changed, but much of the former TCI operation has survived the corporate changeover, Bialis said.
Four hundred former TCI employees have been retained by Cox. The company also transformed TCI's former corporate offices at 8421 E. 61st St. into Cox's, and it switched TCI's technical operations center at 6650 E. 44th St. to Cox's control.
TCI vice president Rick Comfort has left for a position with a company in Dallas, officials said. He will be replaced, beginning Monday, by John Bowen, former director of marketing for Cox Communications in Pensacola, Fla.
Cox, which provides telecommunications services to 125,000 people in Oklahoma City, does not plan any immediate changes in the television channels available to Tulsans, Bialis said.
"We will be making some decisions this year," Bialis said. "I don't think we will take any (channels) off, but I think we would like to offer a couple more."
Including WGN of Chicago?
"Everything's on the table. We will look at everything," he said. "We will not do anything very quickly. For today, tomorrow and the first three months it will be business as usual -- no changes in the price or channels."
To complete the broadband buildout, Cox is hiring network technicians, switch specialists, field technicians, data engineers and customer service representatives, Bialis said.
"In the next couple of months, we will have a game plan and some dates by which our different services will be introduced," he said.