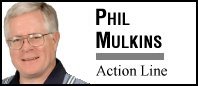 I get a lot of catalogs offering "ultrasonic pest eliminators." I was wondering if these things really do what they claim -- get rid of ants, crickets, roaches and rats. Their advertising doesn't mention termites. If it will get rid of all the other pests surely it can get rid of termites. I just wonder why. -- C.M.N., Tulsa.
It's because the devices are bogus, and making claims about their effectiveness against termites would bring down the ire of the termite-control industry.
The Federal Trade Commission issued a notice May 3, 2001, to 60 retailers and manufacturers of "ultrasonic pest-control devices" warning them to refrain from claiming their products' efficacy in advertising unless efficacy claims were supported by scientific evidence.
The agency reviewed print and catalog advertisements and Internet ads for such devices and found that many of them made explicit claims about product ability to eliminate rodents or re pel insects -- without proper substantiation. These claims might not comply with the FTC Act prohibiting false and deceptive advertising. "Between 1985 and 1997, the FTC brought law enforcement actions against six companies that allegedly made false and unsubstantiated claims about the effectiveness of ultrasonic devices." They were resolved by "consent order," in which companies admit no wrongdoing but agree not to violate the Act.
Previous FTC complaints alleged that any reaction by rodents to ultrasound would be temporary at best because rodents become accustomed to ultrasound and will return to their nesting or feeding areas even in the presence of an ultrasonic device.
The FTC also alleged that ultrasound devices do not control insects. The letters warned that if the companies misrepresented their products or their claims were not substantiated, they would be subject to legal action.
The FTC monitors such advertising to ensure that claims are not false or deceptive. The most recent challenge was announced June 21, in which Prince Lionheart Inc., maker of the "Love Bug," signed a consent agreement not to advertise that its product keeps mosquitoes away from babies (better than chemical repellents) by "electronically duplicating the wing-beat of the dragonfly," the mosquito's mortal enemy.
In 2003, a fact sheet issued by Rutgers University stated: "Scientists have concluded ultrasound units do not offer effective or proven rodent or insect pest control. For best results, use proven, effective management practices and devices (fly swatters, mouse traps, sanitation, fixing leaky faucets, etc.)."
A 2004 copyrighted article by Buginfo.com quoted Dr. Roger Gold, a professor of entomology at Texas A&M University, on reports in trade journals saying these devices don't work: (A) "Based on the research results it appears sonic and ultrasonic sound is ineffective in controlling or repelling German cockroaches." (B) "There continues to be a lack of confirmed studies to scientifically document the claims of efficacy against insect pests." (C) "Test protocols and regulations that will protect the public from unscrupulous manufacturers and marketers of these types of devices must be developed." and (D) "These devices are an outright fraud perpetrated by unscrupulous people."
---
Submit Action Line questions to 699-8888 or by e-mail at phil.mulkins@tulsaworld.com. Action Line pursues consumer complaints submitted with photocopies of documentation to Tulsa World Action Line, P.O. Box 1770, Tulsa, OK 74102-1770.