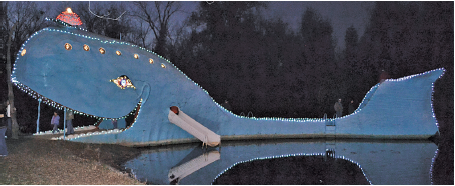 The Blue Whale has become one of the most recognizable attractions on Route 66 in Oklahoma.
The true tale of Catoosa's favorite whale began with one whopping romance. Hugh Davis built it in the early 1970s as an anniversary gift to his wife Zelta.
The property not only included this fanciful blue whale, but picnic tables, concessions, a couple of boats and a wonderful zoo housed in a wooden ark. The zoo was once a favorite field trip destination for the local school kids.
Originally called Nature's Acres, Davis continued to build the attraction until it eventually included the Blue Whale and the A.R.K. (Animal Reptile Kingdom).
The attraction also featured Davis' brother-in-law, Indian Chief Wolf Robe Hunt, a full-blooded Acoma Indian, who was famous, in his own right, for his Indian paintings and as a highly skilled silversmith. Chief Wolf-Robe Hunt once ran the Arrowood Trading post across the highway from the Blue Whale attraction.
The Blue Whale and its pond became a favorite stop for both locals and travelers alike. The Blue Whale, pond and zoo were closed in the late 1980s and soon fell into disrepair.
A decade after the Blue Whale was closed, residents of Catoosa, along with Hampton Inn employees, cleaned up the grounds and gave the whale a fresh coat of paint.
At the end of 2010, the city of Catoosa submitted a grant application to help purchase the Blue Whale. "To be able to purchase our internationally- known Blue Whale for tourists to visit along Route 66 — the Mother Road — is a fantastic opportunity to keep the spirit of the Blue Whale. Also, we would be preserving its 'love story' history," said Mayor Rita Lamkin.
Working closely with the Davis family and the city of Catoosa is a group called Catoosa Arts and Tourism. CAT's focus is to bring attention to the familyfriendly tourism available in Catoosa, such as the historic Route 66 and the Blue Whale that sits alongside it. CAT began keeping track of visitors in June 2010. Visitors have come from Canada, Japan, Australia, Switzerland, Ireland, Belgium, the United Kingdom, Denmark, Germany, Mexico, Spain, Finland, New Zealand, Illinois, Colorado, Michigan, Nevada, New York, Washington, California, New Jersey, Tennessee, Pennsylvania, Arizona, Ohio, Minnesota and Texas.
This past December, CAT decorated the Blue Whale and the old ark with Christmas lights; sold hot chocolate and sugar cookies; and had Santa Claus there for photo opportunities.
Another famous Route 66 icon, POPS, in Arcadia, now sells cream soda with the Blue Whale on its label. POPS' No.1 signature is soda pop — with a record-breaking selection of nearly 600 ice-cold sodas and beverages.
POPS has more than 60 varieties of root beer and more than 40 flavors of cream soda — and now has one featuring Catoosa's very own Blue Whale.
CAT has big plans in store for "Blue" in the future, including souvenirs, advertising "Blue" in travel magazines and brochures. "Blue is bigger than all us — literally and figuratively," said Ron Edwards, president of CAT. "He's loved internationally. His future in my eyes is to continue making folks smile and marvel at the wonder of what he is. There are still lots of surprises to come from Blue — surprises in which Catoosa will be proud of ownership."
Today the Blue Whale lives again as an attraction worth seeing.