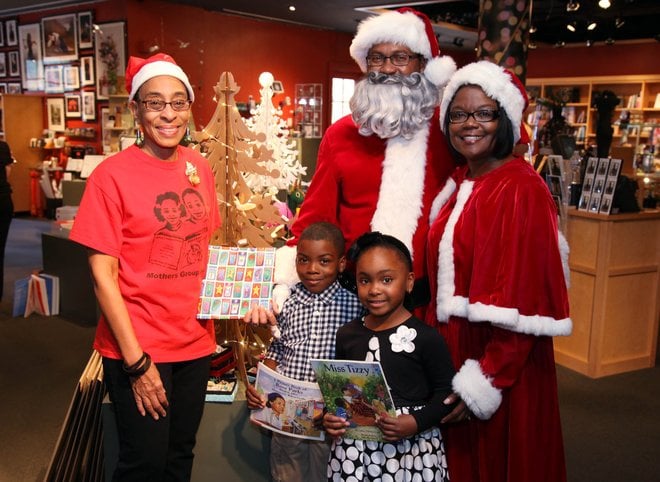 Holiday cheer comes in many colors. And so does Santa Claus. That's why the Mothers Group makes plans annually for an African-American Santa and Mrs. Claus to bring the gift of books and reading for children.
This year's visit will be from 9 a.m. until noon Saturday at Greenwood Cultural Center, 322 N. Greenwood Ave.
Santa's bag of gifts will be filled with brightly wrapped books that he will give to the first 400 children to arrive.
Mothers Group President Leslie Wade said: "Research shows that reading is one of the most inexpensive and readily available forms of entertainment. Also, a study by the National Commission on Reading indicates reading aloud to children is the single most important intervention for developing their literacy skills."
A community volunteer and professor at OU-Tulsa, Brenda Lloyd-Jones founded The Mothers Group Inc. in 1988 to make a difference in the lives of children. Its members work to promote reading, family unity and to give children pride in themselves through intellectual, social and cultural development.
"Early reading experiences are now recognized as being of such importance that the American Academy of Pediatrics recommends that children doctors prescribe reading activities in addition to other instructions given to parents at the time of well-child visits," Lloyd-Jones said.
The Santa Community Project was established in 1989, and thousands of people have attended the event since.
"The Clauses' visit will give youngsters a chance to whisper their wishes in Santa's ear, to take photographs and to receive the best gift of all, a book," Wade said.
Children can complete an application for a library card. School and church choirs, local dancers, and other performers also will be on hand.
Members of the Mothers Group board include Tangie Jones-Ballard, vice president, and Cynthia Price, treasurer.
Other members are Audrey McGill, Carmalita Reynolds, Charlotte Shillingford, Colleen Payne-Nabors, Dana Richardson, Darlene Jacobs, Denise Bromley, Nicole Washington, Helga Price, Kimberly Blake, Michelle Claybon, Monica Lawrence, Rita Williams, Ruth Lloyd, Yvonne Hovell and Zelda Rowlett.
Donations are welcome. For more information, call 918-760-2267. SUBHEAD: The Santa Community Project is set for Saturday.
Original Print Headline: Santa to deliver books to kids