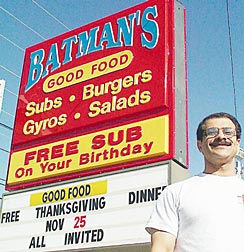 Thanksgiving for Mike Batman is time to show gratitude, he said. The owner of Batman's Good Food and Convenience Store at Pine Street and Mingo Road will serve free Thanksgiving dinner Thursday.
Community World staff photo by David R. Million
Business owner gives back to Tulsa
Mike Batman is thankful. So thankful, he is inviting everyone for Thanksgiving dinner, and between 400 and 500 people took him up on the offer last year. "When I first came to this country, I was by myself. I didn't know what Thanksgiving was. I saw people buying turkeys and knew something special was happening," said Batman, who emigrated from Syria in 1981. "I asked a lady I was working with what Thanksgiving was. She explained and saw it made me sad, because I didn't have family or friends to invite me to their home or for me to invite to my home for dinner. "She invited me to their's for their family Thanksgiving meal. They weren't rich and the meal was simple. It was the point that someone cared," Batman said. As a result, he and his wife Wanda decided as long as they are healthy and can afford to, they will prepare Thanksgiving dinner so no one will have to face the holiday alone. For the fourth consecutive year, turkey and dressing and all the trimmings will be served at Batman's Good Food and Convenience Store on the corner of East Pine Street and North Mingo Road in East Tulsa. Batman emphasized his Thanksgiving meal is not intended just for the poor. "There are other organizations that prepare meals specifically for the poor. Ours is intended more for the lonely so no one will have to be alone on Thanksgiving. "Everyone is invited. People without family or friends to share Thanksgiving. The poor. Even a couple or family who just doesn't want to cook. "We don't want anyone to be discouraged that it is free," Batman said, explaining that the meal is for everyone, not just the less fortunate. Batman said he is not hosting Thanksgiving dinner so much for others, as he is for himself because he is thankful for the success he and Wanda have experienced in their business and to teach their children a lesson in giving and doing for others. "Some day, I'll pass on and our children will remember this," he said. His oldest son Amir, 11, is old enough to understand the thought behind the free dinner, Wanda said. She and her husband have two other children, Hanny, who will be 3 in December, and Saleem, who is 8 months old. Amir is also old enough to help around the restaurant, Batman said, and will be doing chores Thanksgiving Day. Batman said his facility is large enough to host a large number of people over a several hour period. "We served 450 people between 11 a.m. and about 3:30 or 4 p.m. last year and still had a lot of food left," he said. He takes the leftovers to the Salvation Army so others can enjoy the food, he said. It takes more than the Batman family and their employees to handle their Thanksgiving Day guests. "We always have volunteers help. Last year only one was here. We need three or four each year," Batman said. Chipping in to help each year are Wanda's family members. His brother Sam, who came to the United States in 1986, used to help during the holiday meal. He doesn't any longer because he hosts a free Thanksgiving meal at his restaurant, All-American Cafe, 3966 S. Hudson Ave. Batman's Thanksgiving dinner has become a tradition for some people, he said. Some people come each year, and most of those are his regular customers. Others, he said, just heard about the special dinner and drop in. But everyone is welcome. Although Batman does not encourage it, "some people bring food. One of my regular customers brings a turkey every year. I tell him he doesn't need to, but he says he wants to. Like I want to serve dinner for everyone. It makes him feel good." The large crowds have developed over time. When they they started in 1996, there weren't many people and they gave much of the food they cooked to the Salvation Army. Batman said he is hoping to have more than last year's 450 guests and not have much food left over. He'll prepare 28 turkeys, just like he did last year. Even though Batman is not a native of the United States, he finds Thanksgiving holiday very appropriate, he said. "I had nothing when I came here. Now, I have so much. I am especially blessed to have such a wonderful helpful wife. She does too much. If we argue, it's 'I'll go open. No, I will.' I couldn't ask for more," he said. But giving back to his customers, and those who don't have a place to go on Thanksgiving, is what Batman said is most important to him. "The idea of Thanksgiving is to remember what we have and be thankful. Wanda and I are truly blessed and are so thankful. "We want to share our blessing," Batman said. "So if you don't have Thanksgiving dinner planned, come eat with us. We'll have turkey and dressing, mashed potatoes, cranberry sauce, rolls and all the traditional good food that goes with Thanksgiving. "And pumpkin pie for dessert."
Be the first to know
Get local news delivered to your inbox!