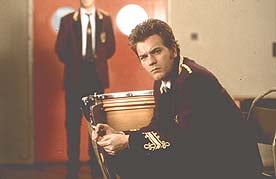 Stars: Pete Postlethwaite, Ewan McGregor and Tara Fitzgerald
Quality: Three Stars (on a scale of zero to four stars)
``Brassed Off'' is a movie that has the brass to show us a suicidal clown trying to hang himself from a rusty industrial ironworks. It's one of many memorably symbolic scenes in this audacious, angry but oddly agreeable screed on the social evils of Thatcherism in 1992 Great Britain.
You don't have to be overly familiar with the economic exigencies of Tory policy in British political life to get this film by writer-director Mark Herman (``Blame It on the Bellboy''). On a basic level, it's an inspriational David vs. Goliath tale of underdogs struggling to hold hearth and home together in the face of cold-hearted bureaucratic numbers crunching.
Set in the aptly named Yorkshire town of Grimley, ``Brassed Off'' visits a time when the Thatcher government is preparing to shut down the local coal mine. It's a move that will essentially kill the town, render its citizens unemployable and make the esteemed, century-old Grimley Colliery Band defunct.
The latter result is an afterthought to most hard-pressed villagers, but to the band's conductor, Danny (Pete Postlethwaite), it's THE central crisis. Mindless of the upcoming redundancy vote in which miners will decide whether to fight to keep the pits open or accept an inadequate government severance package, Danny is intent on guiding the ensemble of miners to the national brass band finals at London's Albert Hall.
While the determined Danny harangues band members to rehearse and pay their dues, Herman's script touches on the trials of various townspeople -- including Danny's woebegone son, Phil (Stephen Tompkinson), a miner forced to moonlight as a party clown -- who see their families and their way of life collapsing around them.
Central in the action is a budding love affair between a young miner and horn player Andy (``Trainspotting's'' Ewan McGregor) and newcomer Gloria (Tara Fitzgerald of ``Sirens''). She shows up at band practice one day and plays a flawless rendition of Joaquin Rodrigo's ``Concierto de Aranjuez'' on her fluegelhorn. The band immediately takes her in, but unbeknownst to Andy and his mates, Gloria is employed by the very British Coal Board that is engineering the nation's mine closures.
That crisis of love plays itself out predictably enough, but the most engaging drama of ``Brassed Off'' belongs to Postlethwaite's character. Danny, who coughs ominously throughout, is emblematic of many of the country's strengths and ills -- the stubborn hewing to tradition, the crumbling of old structures, the dedication to art, the Nero-esque fiddling of the British public while the economy goes up in flames.
The craggy-faced Postlethwaite stands as the movie's crusty, intrepid moral center, somehow managing to keep things on a human scale even as Herman manipulates his other characters to fit the film's thematic thrust.
Even though the film is a bit strident in its proselytizing, even though it wears its bleeding heart conspicuously on its sleeve, even though it's a bit too precious on its ``Rocky-like'' road to triumph, the story ultimately comes off as one of great sympathy and indomitable spirit. Finally, ``Brassed Off'' is orchestrated with enough showmanship and passion to make us forgive its squeaky notes and tune in to its essential, soaring heart.