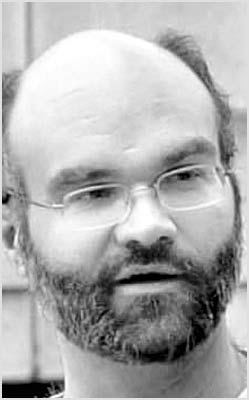 A Tulsa man is convicted as the purported ringleader of a group that conspired to abduct and torture a Broken Arrow man.
A jury sentenced a Tulsa man to life plus 90 years in prison after finding him guilty of kidnapping, assault and conspiracy in the kidnapping and weeklong torture of a Broken Arrow man.
Prosecutor Jack Thorp alleged that Gordon Todd Skinner, 41, drugged, assaulted and injected the victim with chemicals during the Fourth of July weekend in 2003 after the two had taken a powerful psychedelic drug at Skinner's room in the Doubletree Hotel Downtown.
The jury imposed a sentence of life in prison for the assault count, 60 years for kidnapping and 30 years for conspiracy.
Skinner will be formally sentenced July 6, and a judge will decide whether the sentences will run consecutively or concurrently.
The victim, who was 18 at the time and was kept drugged throughout much of his captivity, identified Skinner as his attacker.
Tulsa Police Cpl. Gene Watkins, the lead investigator in the case, called its details gruesome.
Evidence included medical records that showed that the victim's body was riddled with injection marks and that he had been sexually assaulted. His body hair had been shaved.
His name is not being reported because of his status as a sexual assault victim.
The victim testified Monday that after taking drugs with Skinner at the Tulsa hotel, he passed out and awoke naked on the bathroom floor with Skinner kicking him in the groin, "saying you never should've touched my fiancee."
Watkins believes that Skinner was angry that the victim had dated his wife before they were married.
The victim testified that Skinner assaulted him further later in his captivity, after he had been taken from Tulsa to Texas.
Prosecution witnesses, including co-defendant William Ernest "Bill" Hauck, corroborated the victim's story.
Thorp credited the victim and Watkins' police work with the conviction, saying it was a very difficult case to prove.
Authorities alleged that Skinner tortured and assaulted the 18-year-old with chemical injections and beatings before having Hauck dump the victim in a field in Texas City, Texas.
Hauck, who testified about his role in the kidnapping, is accused of leaving the victim dehydrated and near death. The victim managed to get to a nearby highway, where a passing police officer saw him and stopped to help.
Hauck and Skinner's wife, Krystle Skinner, also face trial on kidnapping and conspiracy counts. They posted bond and were released from jail after their arrests in September 2003.
At the time all three were charged, Skinner already was in jail.
He had been arrested Aug. 30, 2003, in an unrelated case by a U.S. Bureau of Land Management agent for possessing drugs at the Burning Man Festival near Black Rock City, Nev. He was sentenced in that case to four years and two months in federal prison in June 2004.
Skinner also had been convicted of a felony in 1991 for conspiracy to distribute controlled drugs in New Jersey.
Pat Adams, one of Skinner's attorneys in the Tulsa case, said Tuesday that "we were disappointed in the verdict but understand and respect the jury's decision."
He said Skinner was sick during most of the kidnapping and could not have played the role that prosecutors alleged.
Skinner's lead attorney, Tom Mortensen, claimed that William Hauck is the most culpable party.
During closing arguments, he alleged that the kidnapping was Hauck's idea and that Hauck committed some of the attacks against the victim.
Mortensen told the jury that Krystle Skinner testified that Hauck was ordering her around while the two took the victim to Texas -- implying that Hauck, not Skinner, was running the kidnapping.
"It's fairly simple to see who was doing this -- William Hauck," Mortensen said.
Skinner had changed attorneys several times.
His lawyers continually asked that the case be dismissed based on Skinner's contention that the U.S. government and Tulsa police violated an immunity agreement he had made with authorities in a Kansas LSD case.
The pleas were denied by Judge Gordon D. McAlister Jr.
Gordon Skinner, who grew up in Tulsa, once was a U.S. Drug Enforcement Administration informant after federal authorities found a large LSD lab in the former Atlas-E ballistic missile silo that he owned near Wamego, Kan.
Federal agents raided the lab in November 2000, and Skinner testified for the government against two men who were subsequently found guilty of drug offenses, court records show.
The Tulsa trial uncovered witness-tampering allegations against Skinner's relatives, one of whom was heard, in a taped telephone conversation that was played for the jury, urging Hauck not to testify.
Skinner's cousin, Michael Chasteen, testified that he taped the telephone conversation after he was called by Skinner's two attorneys, who introduced the tape as evidence to damage Hauck's credibility.
On the tape, which was played last week, Hauck is heard asking Chasteen, who called him, about $25,000 he would need to "disappear."
Chasteen testified Monday that he was the other man on the tape, the man who was heard asking Hauck not to cooperate further with authorities as a favor to Skinner.
Under cross-examination by Thorp, Chasteen denied that he was trying to tamper with a witness.
"He called me and wanted me to give him money," he said.
Skinner will appeal the conviction, Mortensen said.
---