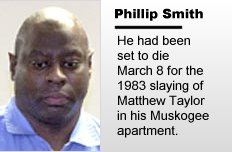 OKLAHOMA CITY -- Gov. Frank Keating on Monday commuted the death sentence of Muskogee County killer Phillip Dewitt Smith to life in prison without the possibility of parole.
"I cannot in good conscience allow the execution of this inmate," Keating said.
Smith was set to die March 8 for the 1983 slaying of Matthew Taylor in his Muskogee apartment. Taylor was hit several times in the head with what was believed to be a hammer.
On March 1, the Oklahoma Pardon and Parole Board voted 4-1 to recommend Smith for clemency, putting the decision in the hands of Keating, who issued two 30- day stays of execution.
"We appreciate the governor granting clemency," said Vicki Werneke, assistant federal public defender. "And we are extremely grateful that Mr. Smith's life was spared."
It was the first time a clemency recommendation had been made to the governor since 1966.
Keating said he believes Smith is "probably guilty," but his case doesn't rise to the level of "moral certainty," therefore, he should be spared.
Keating said he doesn't believe his decision will undercut the decision of juries, pointing out that he was dealing with different circumstances than the jury, which sentenced Smith to die.
Two witnesses later recanted, Keating said, adding that the case was circumstantial, with no eye witnesses and no forensic evidence.
Keating said he believes in the death penalty. But to keep it a viable option in the state, moral certainty that the accused committed the crime must exist.
"The surest way to repeal it (the death penalty) is to execute an innocent person," Keating said.
He also doesn't fault Oklahoma Attorney General Drew Edmondson for prosecuting the case when he was Muskogee County District Attorney.
"Under the circumstances, he did a superb job," said Keating, a former prosecutor. "He did an extremely professional job."
Keating also doesn't think his decision will result in defense investigators or others pressuring trial witnesses to recant.
Public defenders are people of integrity, Keating said.
"I don't anticipate corruption of the process," Keating said.
When asked to respond to appellate court decisions which upheld Smith's conviction in spite of allegations of witness recantations, Keating said his standard is different.
"Their review was based on legal standards," Keating said, adding that there are no standards set forth in the clemency process.
Edmondson said he disagrees with Keating's decision, but appreciates the work and study the governor gave the case.
"We all do our jobs," Edmondson said. "I did my job as prosecutor of the case. The jury did its job by finding Smith guilty beyond a reasonable doubt.
"The criminal appeals division of the Attorney General's Office did its job, successfully defending the case before a multitude of state and federal courts for the last 17 years.
"Our jobs are over. Now the governor has done the job he is constitutionally called upon to do."