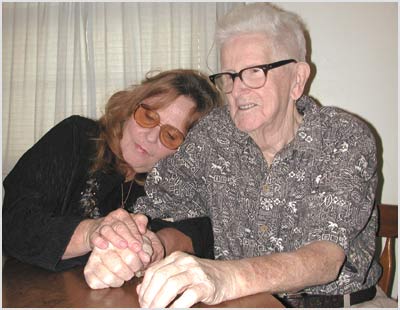 Barbara Prather will never forget Aug. 29.
Not only was it the day Hurricane Katrina hit, but it was also the day her 79-year-old mother died.
Two weeks before Imogene Guthrie died, Grace Hospice of Oklahoma, 6400 S. Lewis Ave., was called to assist the family at her mother's nursing home. Two months later, the hospice group has been called in once again to assist Prather's father, 86-year-old Bob Guthrie, who is in his final stages of lung cancer.
Hospice care meant a lot to Guthrie when his wife was dying.
The Guthries, who have always lived in Tulsa, were married for 63 years. They had one daughter who eventually had five children.
Bob Guthrie was a devoted family man and worked as an iron foundry worker for 40 years. During World War II, he enlisted in the U.S. Army as an infantryman and traveled to the South Pacific.
It was his wife who suffered from health problems, ranging from arthritis to Alzheimer's and congestive heart failure in her later years.
Though Guthrie was legally blind, he stayed with her and cared for her until she died. He even cared for her after he was diagnosed with lung cancer a few months before her death, while he was undergoing radiation treatments.
Prather was there to help her parents almost daily, but the constant care of Guthrie's wife took a toll on him. He lost more than a hundred pounds and was emotionally and physically stressed. Finally, his wife was placed in a nursing home at the beginning of August.
Prather has lived in the Tulsa area for the past four years.
"After 63 years they wouldn't leave each other, and he wouldn't quit taking care of her," said Jeremy Skaggs, hospice chaplain.
Imogene's health was considered fairly good for the first two weeks at the nursing home, but then her condition worsened. Guthrie and Prather both believe if the hospice had not been there, Imogene's last days would have been harder on her and the family.
"She had very short periods of consciousness. She was in a deep, deep sleep. She woke up long enough to give me five precious kisses. I'm hanging on to that. It was her way of saying goodbye," Prather said.
"Mama wasn't the type to kiss me on the lips. It was precious."
Skaggs said Imogene's family was wonderful and never left her bedside.
"They were dedicated to her," Skaggs said.
Guthrie said he loved his wife and still does to this day.
"You can't be with someone that long and not love them," Guthrie said.
"I was with her every day until she died, and she didn't recognize us half the time."
Though Guthrie is deeply saddened by his wife's death, he is extremely grateful for the hospice care.
"The hospice people are the best people God put on this earth. Hospice would take care of her when the nurses wouldn't. They deserve every bit of credit they get," Guthrie said.
The hospice care, funded by Medicare, comes at no cost to the patient. Guthrie, who is on the receiving end today, said hospice comes twice a week to assist him. An electronic device attached to the telephone enables him to reach hospice with the touch of a button if he needs assistance.
Today hospice checks his blood pressure, sees that he has his medicine and will provide a hospital bed if needed.
A breathing treatment device is by his bed.
"As his condition deteriorates, we will be here and keep him comfortable, free of pain and in a better frame of mind," Skaggs said.
"We try to do whatever we can to make the transition when the condition deteriorates.
"We try to keep them as comfortable as possible and live as normal as possible."
Skaggs said people should talk to their physicians about getting hospice care.
A patient must have a terminal illness and usually have six months left to live. Bereavement and grief support is also provided when the family member dies.
"What's interesting with this is we're providing bereavement service and hospice services," Skaggs said.