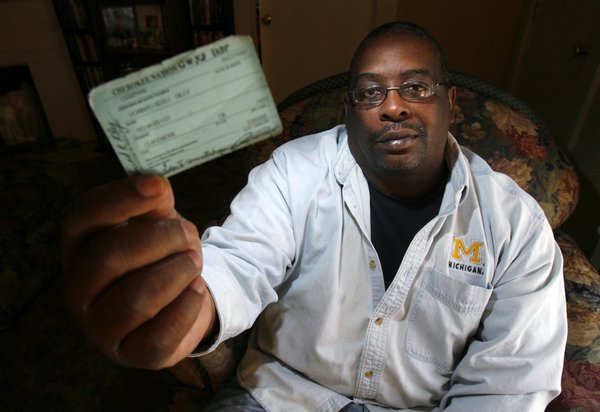 ---
Read the judge's decision.
---
A Cherokee Nation district court judge granted tribal citizenship to about 2,800 non-Indian freedmen Friday.
Freedmen, who are typically African-Americans and descendants of Cherokee slaves, had been denied citizenship in a 2007 amendment to the Constitution of the Cherokee Nation.
Judge John Cripps overturned that amendment and cited the tribe's 1866 treaty with the United States that said freedmen had all the rights of native Cherokees.
"The Cherokee Constitutional Amendment of March 3, 2007, by virtue of the provisions of the Treaty of 1866, and subsequent actions taken in furtherance thereof, are hereby determined to be voided as a matter of law," the judge's decision states.
The tribe will begin processing applications for tribal citizenship within a month.
"We could not be more pleased with the decision," said Ralph Keen II, attorney for the freedmen. "The freedmen enrollees and their descendants have gained their full rights as Cherokee citizens."
Keen said the sides have been waiting for a decision for more than a year.
Diane Hammons, attorney general for the Cherokee Nation, said that the tribe is considering its options, including an appeal to the Cherokee Nation Supreme Court.
"We have received the district court decision with which we respectfully disagree," said Hammons in a press release.
"We believe that the Cherokee people can change our constitution, and that the Cherokee citizenry clearly and lawfully enunciated their intentions to do so in the 2007 amendment."
But being Cherokee isn't about being a certain ethnicity, said Marilyn Vann, a Cherokee freedman who has helped lead the fight for recognition. She said being Cherokee is about being a part of a government and added that slaves of white Americans were considered Americans after they were freed.
In addition to the roughly 2,800 freedmen who already have Cherokee membership, an estimated 25,000 more could apply, Vann said.
Keen said those people would have to prove that they're direct, linear descendents of original freedmen enrollees.
Howard Riley, 48, of Tulsa remembers how his father was denied Cherokee citizenship some 15 years ago. After about a decade of struggling, Riley, his father, sister and brothers received their citizenship.
"Being recognized by the tribe doesn't change the fact that we are freedmen by birth," Riley said. "We always considered ourselves part of the tribe, regardless of being kicked out or not."
Freedmen had tribal membership before the 2007 constitutional amendment, which denied Cherokee citizenship to the descendents of those on Dawes Rolls who did not have a certain percentage of American Indian blood. The U.S. government created the rolls in 1893 to allot land to members of the Five Civilized Tribes.
The rolls contained different citizenship categories, including by blood and freedmen.
Freedman Kenneth Payton can link 31 ancestors to the Cherokee Nation dating back to 1801. There are likely more, said Payton, 50.
He too welcomed Friday's news, adding that he hopes his family will be able to use the benefits they deserve.
Cherokee citizens are granted certain education, health and business benefits, among others.
Payton, a disabled U.S. Army veteran, said the fight to prevent freedmen citizenship was always about benefits and money.
"It's not red or brown," Payton said. "It's green."
---
Gavin.off@tulsaworld.com SUBHEAD: A judge overturns a 2007 amendment to the Cherokee Constitution that denied rights to non-Indian Freedmen.
Original Print Headline: Tribal citizenship granted