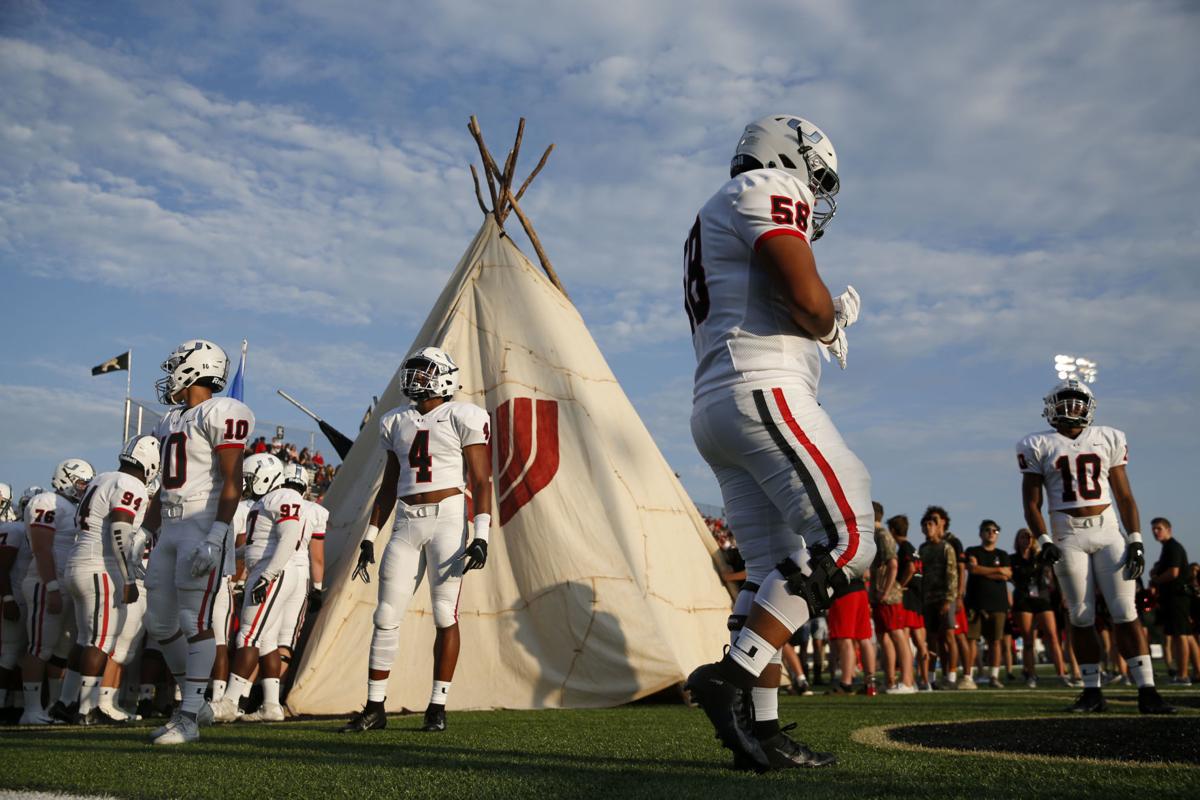 Editor's note: This column was written in 2005. Tulsa World Sports Writer Eric Bailey is a Cherokee-Creek-Seminole Indian.
Most sports fans aren't racists. They are just a little uninformed.
The NCAA ruled Friday that American Indian nicknames will not be allowed at postseason events beginning this school year.
Some schools won't be able to host NCAA championship events unless they plan to change their nicknames.
The topic probably will show up in the courtroom before it gets on the basketball court.
A lot of sports fans are wondering what the big deal is about American Indian nicknames.
Sometimes imitation isn't the sincerest form of flattery.
For some American Indians, tomahawk chops, war chants and mascots like the University of Illinois' Chief Illiniwek are a slap in the face of my quiet but proud race.
I didn't grow up on a reservation speaking my native tongue and dancing at powwows. The city of Tulsa has always been home.
I did grow up an avid sports fan. My favorite NFL team used to be the Washington Redskins.
I attended and worked at Haskell Indian Nations University in Lawrence, Kan. Our school nickname was the Indians, which was appropriate since the school's enrollment was entirely American Indian.
It was at the school where I truly learned about my heritage. Before basketball games, the beat of a drum and a traditional flag song to the stars and stripes honored the United States. Powwows were held regularly on the 160-acre campus, which was the closest I got to being on a reservation.
As a kid, the nickname "Redskins" never bothered me, but as I got older, I began questioning it. An Internet dictionary search calls the nickname "offensive" while another says it is "disparaging."
Would society today tolerate stereotypes or offensive nicknames of any other race similar to what American Indians go through?
Team names can be changed. Miami of Ohio went from Redskins to Red Hawks and St. John's switched from the Redmen to the Red Storm.
It's even happened at the pro level. But I'll never understand why the NBA's Washington Bullets can change their name to the Wizards while across town the Washington Redskins won't get rid of their nickname.
While there are some American Indian activists applauding the NCAA's actions, some tribes are upset.
The Seminole Tribe of Florida has always looked at the Florida State Seminoles with pride and approve the nickname, yet the NCAA said FSU isn't in compliance with the new policy.
My take? If the Florida tribe wholeheartedly stands behind FSU (and any other tribal mascot, for that matter), it's fine. But schools and tribes must do research to keep the values of American Indians sacred.
I don't think we'll see all of the nicknames changed in my lifetime. There's too much money involved and lawsuits waiting to happen. I do think it will be a topic of conversation for years to come and could happen eventually.
The NCAA ruling is a bold step in the right direction toward education about nicknames and stereotypes.
But there are still detractors.
While listening to a national sports talk radio show on Saturday morning, the nickname issue was still discussed on the airwaves.
Instead of exploring why some American Indians are upset, the host used the time to ridicule the nicknames and make jest of the situation.
Anything for a quick laugh, but guess at who's expense?
I've grown up in a time where what's done isn't always right but you just get used to it.
Now, take time to learn the other side of the story. Educate yourself. Why do some American Indians passionately want nicknames phased out?
The more you learn, the more you can understand the feelings of American Indians who want change.
Is the use of nicknames right or wrong? It's a question that everyone needs to answer for themselves.
For me, the learning process goes on -- and will go on -- on a daily basis.
The nickname of my children's school district?