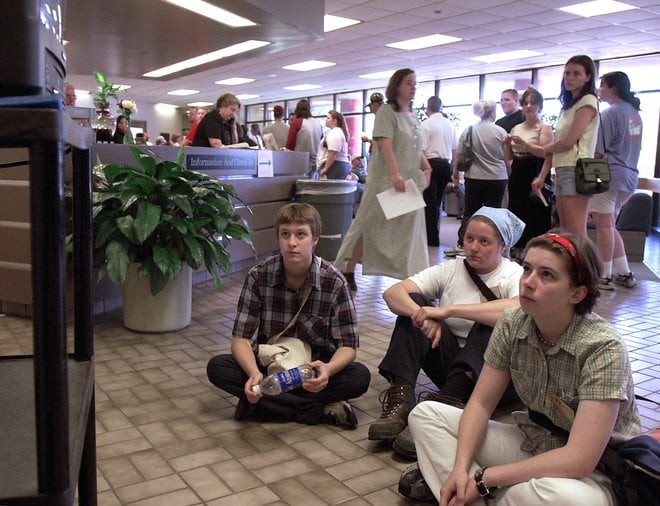 ---
View the Tulsa World's online memorial to 9/11. The special site includes archive stories, photos and videos from the day of the attack and Ground Zero, a tribute to the Oklahomans who have died in the wars in Iraq and Afghanistan, and much more.
---
Blood donors throughout the country began lining up at collection agencies within minutes after hearing news broadcasts about the Sept. 11, 2001, terrorist attacks in New York City and Washington and overwhelmed blood banks where many had to wait for hours to donate.
They gave so much blood that they created a shortage of bags in which to store it.
The New York Blood Center sent all of its inventory to the city's hospitals in anticipation of great need for victims - in some cases hand-carrying it through the chaos created by the terrorism - shortly after hijacked planes crashed into the World Trade Center towers. The Blood Center sent out a call for more blood and potential donors immediately began lining up at hospitals and blood banks in New York to donate more.
Potential donors did the same throughout the country, including in Oklahoma after Gov. Frank Keating passed on a plea for blood that he received from New York authorities. By 11:30 a.m., about 300 people were lined up outside the Oklahoma Blood Institute office a few blocks from the Capitol and the line was growing. Tulsans gave 300 pints that day to the Red Cross and Oklahoma Blood Institute, both of which extended their hours to accommodate donors. They said those extended hours would be continued for the rest of the week.
The Oklahoma Red Cross and OBI planned to send 800 pints of blood collected earlier to New York. "There's enough to handle emergency needs at the minute. That could change in an hour," spokeswoman Melissa McMillen said in New York.
The American Red Cross said it had 50,000 units ready to ship to New York if needed. It urged blood donors throughout the country to keep any appointments they had to give blood.
"I think that's a natural response to this kind of tragedy," OBI official Jean Letcher said of the early donors.
Tammy Frazier and Shellie Benton, wives of Catoosa firemen, were typical of that desire to help. They headed for the Tulsa Red Cross headquarters to donate almost as soon as they heard about the terrorists' attacks.
They were followed by hundreds of people who lined up at the Red Cross and OBI centers across the city; many waited for hours to donate. The generosity continued for the next two days until coordinators said no more blood was needed - at least then.
Maggie Jewell, a spokeswoman for the Red Cross, asked donors to wait a few weeks when the need was expected to be greater. She said fewer victims than expected needed transfusions and that more efforts had turned to recovering and identifying the dead.
During the first two days after the attack, 1.5 million units of blood were donated nationwide, boosting the Red Cross's supply to enough for four days, more than the target of three days.
---
We remember …
A look at locals who have lost their lives in connection to the aftermath of the terrorist attacks.BY AMANDA BLAND, World Staff Writer
Clint StoreyAge: 30Hometown: EnidDied: Aug. 4, 2006Army Staff Sgt. Clint J. Storey was killed when an improvised explosive device detonated near his Humvee in Ramadi, Iraq."My baby boy, you have made your mark in this world and you will never be forgotten," mother Carol Inherst wrote in a letter read at his funeral. Storey's wife was pregnant with their second child when he died. They also had a 4-year-old daughter.
Jared ShoemakerAge: 29Hometown: TulsaDied: Sept. 4, 2006Marine Cpl. and Tulsa Police Officer Jared M. Shoemaker was killed by a roadside bomb in the Al Anbar province, Iraq."He will be greatly missed. He was a real solid guy with a lot of character and a lot of integrity — all the good things that make a great officer," said Cole Cortright, a fellow police officer and classmate at Patrick Henry Elementary and Edison Preparatory schools.
John CarrollAge: 30Hometown: Ponca City
Died: Sept. 6, 2006Sgt. John A. Carroll was killed by small-arms fire during a dismounted security patrol in Ramadi, west of Baghdad.His mother, Dawn Petrakovits, said her son joined the military for its educational opportunities."He called from Iraq whenever he could," she said. "He was always telling me not to worry — that he was doing his best to stay safe."
Clint WilliamsAge: 24Hometown: KingstonDied: Sept. 14, 2006Army Sgt. Clint Williams died of injuries sustained when an improvised explosive device detonated near his vehicle during combat operations in Baghdad.He played baseball, loved hunting, and was president of his high school class."He loved to have fun, but nothing too crazy," friend Shasta Carter said. "He had a ton of friends."
---
Original Print Headline: Blood supply exceeded