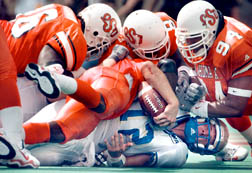 PILING ON
Tulsa quarterback Michael Wall feels the wrath of Oklahoma State defenders as he falls to the bottom of the pile at Lewis Field.
Stephan Pingry / Tulsa World
OSU defense met in TU backfield
STILLWATER -- This was about making amends.
Embarrassed by a loss to Tulsa last season, Oklahoma State responded by battering the Golden Hurricane 46-9 in a mismatch of a rematch before 46,250 fans at Lewis Field on Saturday. It was the Cowboys' second-most lopsided victory in the history of the 69-game series, trailing only a 41-2 rout in 1917.
OSU was playing its first game minus injured starting quarterback Tony Lindsay, sidelined at least four weeks with a knee injury, and pre-game curiosity centered on how inexperienced replacements B.J. Tiger and Ben Bowling would respond under pressure.
But Oklahoma State's quarterback play, though solid, was rendered a moot point because of a dominating Cowboy defense that harassed Tulsa quarterbacks Michael Wall and Josh Blankenship from start to finish.
Chalk it up to another case of making amends. It was almost as if OSU defenders said, "We lost our quarterback, so we're going to neutralize yours."
"All week we emphasized getting to the quarterback, getting to the quarterback," said Cowboy defensive end Zak Warner.
"(Tulsa's) passing offense will not work if you put pressure on the quarterback. All those little hits after he threw it, all the hurries, he remembers that. People falling around his legs. He remembers that and he gets scared. We just want to keep bringing the heat every week."
OSU attempted to blitz Tulsa into submission last season, but the Golden Hurricane beat the pressure by throwing for 259 yards.
This time, the Cowboys recorded five sacks and 14 tackles for losses.
"We had some orange jerseys in our backfield way too often," said Tulsa coach Dave Rader.
With its quarterbacks under siege, Tulsa was too preoccupied to attack and did not make a first down until 4:53 before halftime. It came on the Golden Hurricane's eighth possession.
"I know that (Tulsa) had a lot of problems in protection," said OSU coach Bob Simmons, who evened his career record to 24-24. "You talk about taking legal hits on the quarterback, he was down a lot. It came from the ends. It came from the linebackers. It came from the secondary backs. I thought our game plan was very, very good."
Simmons thought TU's receivers would provide a test for OSU's secondary, but the pass rush was so successful that the test will have to come another day. Said Simmons, "When you are sitting down, there is no way you can throw the ball."
The Golden Hurricane was limited to 123 total yards, minus-20 rushing yards and three Derek Nordstrom field goals. Only once in school history has OSU allowed fewer rushing yards. The Cowboys held Kansas State to minus-33 ground yards in 1980.
Asked if last year's TU-OSU game played a role in what happened Saturday, OSU linebacker Tarrell Knauls said it made a big difference.
"When we went down there, they wore us out all over the field," he said. "We came up here and just put it right back on them and showed them what the Orange Crush can do and what it's all about."
The Cowboy offense helped the "46" defense by scoring 46 points -- the most for OSU in a non-overtime game since a 48-28 triumph over Missouri in 1990. Credit the defense for nine of those points. Kenyatta Wright recovered a fumble for a first-quarter touchdown and Juqua Thomas and Kevin Williams teamed for a fourth-quarter safety.
When OSU wins games in this series, it is usually because tailbacks run wild. But Nathan Simmons and Jamaal Fobbs combined to rush for 75 yards. Tiger and Bowling were the Cowboys' leading rushers, teaming for 121 yards on 20 carries (mostly scrambles).
Tiger hit 10-of-16 passes for 162 yards, including a 68-yarder to Ethan Howell that set up a third-quarter field goal. Howell established career-highs with five catches for 107 yards.
Despite troubles moving the ball, Tulsa believed it was still in contention heading into the fourth quarter. The Golden Hurricane trailed 23-9 and gained possession at the OSU 49. Rader figured that a touchdown would make it a 7-point game, setting up a possible cliffhanger finish.
But, on the second play of the quarter, Thomas scooped up a fumbled pitch and rambled 17 yards to TU's 23. That set up a TD drive which started an avalanche of 23 Cowboy points in the final 12:14.
Tiger and Bowling both threw touchdown passes to tight end Marcellus Rivers in the final period and Bowling ran for a 3-yard score.
Said Wright, "We had one mission in mind and that was to shut them out and not let them have any control of the game and have no momentum at all, and we did that today."