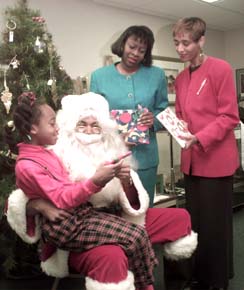 Courtney Tisdale shares her Christmas wishes with Santa as Brenda Lloyd-Jones and Shari Tisdale listen in. Santa is portrayed by Jawan Strader. The group is getting a preview of the fun to come when an African-American Santa visits the Greenwood Cultural Center on Dec. 13. The event is being sponsored by The Mothers' Group and the Greenwood Cultural Center.
World staff photo by Daryl Wilson
Love comes in many colors.
From 10 a.m. to 1 p.m. Dec. 13, an African-American Santa will visit the Greenwood Cultural Center, 322 N. Greenwood Ave. He will bring with him a bag filled with brightly wrapped packages, and inside, there will be books -- the best of all presents -- because books can help change the lives of those who open the covers and discover the adventure of what's written inside.
According to Shari Horner Tisdale, chairwoman of the Santa Community Initiative, "Studies show that children who are read to, do better in school, and that reading aloud to children raises their self-esteem and reading ability."
Books do make a difference.
Statistics show that 85 percent of juvenile offenders have reading problems, that 60 percent of people in our nation's prisons are illiterate and that 44 percent of our adult population never read a book.
The Mothers' Group and The Greenwood Cultural Center are working to change those statistics.
They are sponsoring the Santa Initiative, which will give kids not only the gift of reading, but also a chance to whisper their Christmas wishes into Santa's ear, to have a picture taken with the jolly ol' elf and to be part of the holiday season.
Choirs such as the Tulsa Boys Choir and Tulsa Public School Academy Central elementary chorus will sing throughout the day.
Brenda Lloyd-Jones, who in 1988 founded The Mothers' Group, did so to help make a difference in the lives of children.
She said children come to the holiday event because they want to see Santa, while others want to enrich their cultural awareness and welcome the chance to embrace and celebrate our diversity."
The Santa Initiative reinforces all that we hope Christmas teaches us -- desirable behavior and meaningful values. to be kinder and to share with others. Even Rudolph has a role to play when he shows that a red-nosed reindeer, often laughed at for being different, has value and a great purpose in life.
Several Santas have volunteered to help during the day, and if their faces look very familiar, that's because Olympic gold medalist wrestler Kenny Monday and news reporter Jawan Strader will be the men in the red suit.
News anchor Kim Graham is the honorary chairwoman of the event. Others helping include Harriet Harris, Ruth Demery, Sherry Jackson, Darlene Jacobs, Sabrina Goodwin Monday, Glenda Love, Jayne Reed, Erma Roquemore, Charlotte Shillingford, Demetria Tisdale, Deborah Taylor, Leslie Wade, Sylvia Brown, Roma Benjamin, Kimberly Johnson, Gail Williams and Dr. Linda Parker.
There is no charge to attend and all children are invited to attend.
Book sponsorships also are available and range from $5 for one book to $100 for 20 books.
For more information call 496-9677.
Danna Sue Walker is a World staff writer.