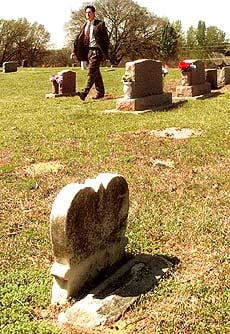 Nick Reynolds, general manager of Butler-Stumpff Funeral Home, strools through Rolling Oaks Memorial Gardans, formerly Booker T. Washington Cemetery, in south Tulsa.
World Staff Photo by John David Heckel.
One of the last remnants of a black community in south Tulsa was buried when Booker T. Washington Cemetery got a new suburban name.
When Butler-Stumpff Funeral Home took over operation of the privately owned cemetery 18 months ago, the name changed from Booker T. Washington Cemetery to Washington Memorial Gardens.
This month, the name changed again -- to Rolling Oaks Memorial Gardens.
"We thought Rolling Oaks would be a nice name for it," said Nick Reynolds, general manager of Butler-Stumpff Funeral Home, the Cremation Society of Oklahoma and the cemetery.
"The cemetery has a lot of rolling hills, and there are lots of oak trees."
The new name seems to reflect what the suburban area, once predominantly black, has become. Thousand Oaks housing addition is located across the street, just one of the many additions springing up all over south Tulsa. Jenks East Elementary School and Jenks East Middle School are neighbors of the cemetery.
"The area has changed tremendously," said Arnold Williams, the son and nephew of members of the former community.
"My aunties and mother lived there," he said. "Things started to change in the early '70s, and my auntie sold the last remnant of grandfather's allotment to Jenks schools."
Although the community has changed, some Tulsans have expressed concern over the name change and the implications it has for Tulsa history.
"It is a subtle attempt -- or not so subtle -- to get rid of that name, and it is ridiculous," Williams said. "It has been there so long, and it is part of the history of early Tulsa."
Aside from the implications for the city's history, Williams lauded Booker T. Washington as a legendary early-day black leader and educator, and he condemned the practice of ignoring his contributions to society.
Washington was a well-known orator, author and founder of Tuskegee Institute in Alabama. He died in 1915.
"He was one of the early champions of black folk," Williams said. "I went to Tuskegee Institute. That's why I'm so miffed."
Other people with ties to the cemetery are also upset by the deletion of Washington's name.
"My parents picked that cemetery. In their honor, the name should stay," Jewelene McIntye said. She has a twin sister, parents, grandparents and extended family buried in the cemetery.
"Booker T. Washington was an educator, and education was the pride of my parents," McIntye said. "They worked hard to make sure they had a plot to be passed on for the family."
McIntye wants to be cremated and have her ashes placed with the remains of her twin sister, who died as a child. Other family members also wish to be buried in the family plots.
She remembers gathering with family members in the cemetery on Memorial Day. It was a tradition to clean the graves and meet with the family.
"People just don't know about this," she said. "When people know things, that's how things get stopped. It's our history, and we're proud of it."
McIntye, who now lives in Minneapolis, is organizing a letter-writing campaign to protest the name change.
Mitchell's Funeral Home, 2003 E. 15th St., has conducted many burials in the cemetery.
"It is sad, culturally, that the name will be lost," funeral director Byron Mitchell said.
"The cemetery is primarily 90 to 100 percent supported by black families. They connected culturally with the name Booker T. Washington," he said.
However, the families may be affected most noticeably by how the cemetery is marketed to them, Mitchell said.
The name change might not be as important in choosing a cemetery as whether family members are buried there, he said.
Jack's Memory Chapel, 801 E. 36th St. North, also has conducted many burials in the cemetery. But since Butler-Stumpff took over ownership, the number has dwindled.
"The cemetery was about low cost, and it was privately owned," said George Riley, a funeral director at Jack's. "It was there to give someone a final resting place -- not to get a profit."
Butler-Stumpff plans to build a funeral home on the cemetery grounds. The two will be called Rolling Oaks Funeral Home and Memorial Gardens, Reynolds said.
The funeral home has made improvements to the cemetery, adding 15 acres to the existing 7 1/2 acres and adding a gate. Reynolds said a lot of repair work remains to be done on the cemetery and that the name change will reflect its new atmosphere.
Plots for the cemetery start at $335, Reynolds said.