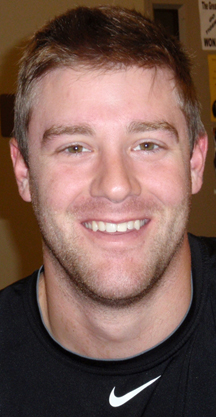 Archie Bradley was a half-hour late for an early-morning appointment.
As he walked through the athletic building door at Broken Arrow High School, Bradley broke into a grin.
"In Bradley fashion," he said, as the clock struck 8 a.m., "I am late."
The 20-year-old, however, wasn't behind schedule with BAHS strength and conditioning coach Mike Wojciechowski, who demands promptness and doesn't settle for less than 100 percent.
"I am still sore from yesterday," Bradley said, pointing toward the weight room –  Wojciechowski's domain. "We're friends away from here but he's not real nice when we're training. He's only going to make me better."
Wojciechowski is preparing Bradley for his second full season of minor league baseball and the 2011 BAHS graduate is wanting a running head start.
A first round draft pick by the Arizona Diamondbacks out of high school, the right-hander will be better prepared for this season. And, it's not always about throwing a baseball.
"What I wasn't ready for were the 10 hour bus rides," said Bradley, who is nearly 6-foot-4. "There were guys taller than me and I had trouble getting comfortable on a bus. Ten hours is a long time!"
His first full summer of professional baseball was dealings in life.
"I was, basically, on my own. I had to find my own place to live, pay my bills and cook for myself. There were things about how to pack for a road trip and what not to take," he said. "I know what to expect now. It will be a lot easier."
Bradley doesn't complain.
"On the other hand, I could be sitting behind a desk," he said. "Hey, I am getting to play baseball. I am getting paid to throw a baseball."
Bradley spent last season in South Bend., Ind., the Diamondback's low A club in the Midwest League, where he was was 12-6 with a 3.84 earned run average over 136 innings. He had 152 strikeouts, which was second in the league, but was head of the class in walks with 82.
He was criticized for those walks (5.56 per nine innings). But Bradley offset that figure by registering 10.6 strikeouts over nine innings. He realized he was under the microscope.
"People wouldn't talk about it, but you knew they were saying 'Hey, here's a No. 1 draft pick and he's walking people,'" Bradley said. "No matter where, or who we played, the other team always brought their A games because I was pitching.
In one game, Bradley was struggling when a teammate calmed him down.
"Our shortstop told me 'Hey, just image your pitching in the state championship game,'" Bradley said, referring to his 4-0 victory in the Oklahoma state final in 2011. "All of a sudden, I was wearing my BA uniform and pitched well."
Armed with a healthier diet (which means no desserts and all-you-can-eat), Bradley recently was named the Diamondbacks' No. 1 prospect by Rich Wilson of prospect361.com.
Wilson called Bradley "a premium athlete with an electric arm that is simply lacking experience" and in 2012 "began to harness the arsenal. His 2012 stat line was just ok, but Bradley has a chance to be a monster."
Bradley reports in mid-February to spring training. While there are no guarantees, there's incentive.
"I've been told if I work hard and do well, we can go places," Bradley said. "Nobody can hold me back … but me."