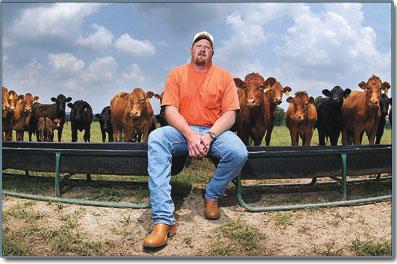 GANS -- When he purchased the property where he would build his dream home, Bryant "Big Country" Reeves didn't settle for an ordinary piece of land.
He bought 300 acres of rural paradise in Sequoyah County, about 100 miles southeast of Tulsa. Banked against the Arkansas River, the Reeves Ranch is a lush greenbelt near Gans, the tiny burg with which he has become synonymous.
Reeves once was a Cowboy -- a dominant 7-foot center who led the 1995 Oklahoma State basketball squad to the Final Four.
He now is a cowboy -- a cattle rancher who resides with his wife and three children in a tastefully designed and decorated dwelling that has 15,000 square feet of floor surface.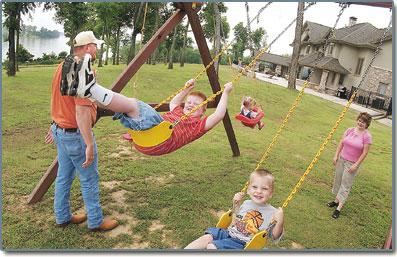 That's no typo -- it's a 15,000-square-foot house. A new addition to the ranch is a not-quite-completed gymnasium that will include a 94-foot hardwood basketball court.
In every sense, it's a big-time place to live.
"Wealth is defined several different ways," Reeves said as two dozen of his registered Limousin cattle gathered for a midday feeding. "If I hadn't played in the NBA, I would have worked at the Whirlpool plant, had a few cows and had a good family, and I still would have been a wealthy guy."
Reeves became an extremely wealthy guy during his six-season NBA career, cut short because of chronic back pain. He retired at about the midway mark of the 2001-02 season, when he was unable to play because of the back injury. That season, he made $11.6 million. During the 2002-03 season, as part of his injury settlement of the six-year, $61.8 million deal he signed in 1997, he received an additional $13 million. He was a rookie in 1995-96, and his final complete season was in 2000-01.
Most NBA players burn a chunk of their bonus money on an extravagant vehicle. Reeves' first significant purchase was a tractor. "I got a John Deere," he said. "I drive Ford pickup trucks, my wife drives a Ford Excursion, and we're as happy as we can be. I never could see spending $140,000 for some car."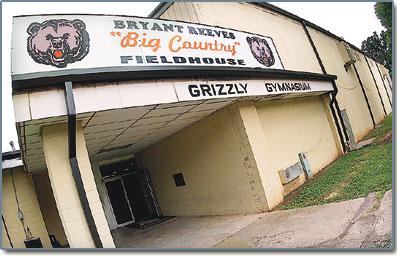 Reeves rarely responds to media requests, but he finally relented last week and invited the Tulsa World to see his ranch. During a one-hour interview, most of which occurred at his kitchen table, Reeves discussed his decision to end his self-imposed exile and rejoin the OSU basketball family.
As a college player, he seemed nervous with reporters. As a 31-year-old man, he is infinitely more relaxed in the question-and-answer dynamic. He doesn't look it, but Reeves says he is 40 pounds heavier than his playing weight of 300.
Bryant and April, his wife of nearly nine years, have two sons (6-year-old Treyton and 4-year-old Trevor) and a daughter (2-year-old Maddie). Bryant is a base coach for each of his sons' T-ball teams.
"It can be a little nerve-wracking at times," Reeves said. "My son (Trevor) goes straight from first base to third base. Just cuts straight across and misses second."
Reeves seems absolutely content and says he's not bothered by the opinion of some NBA media and fans that his pro career with the Vancouver/Memphis Grizzlies was a bust. He finished with averages of 12.5 points and 6.9 rebounds.
"After I retired, I just got away from basketball for a while," Reeves said. "I got completely out of it and completely away from it. It pretty well ruled my life for the years I was playing. I relaxed and spent time with my family.
"I knew it (basketball) was coming back eventually. It's part of me. It's part of my blood. I can't leave it. I got back in it."
On Jan. 14, Reeves drove to Stillwater to watch Bedlam basketball -- an O-State victory over Oklahoma. When he was introduced, the fans' response was deafening. It is the opinion of Cowboy coach Eddie Sutton and coach-designate Sean Sutton that Reeves is the greatest player in the history of OSU basketball, but until Jan. 14, Reeves hadn't been in Gallagher-Iba Arena since Feb. 27, 1995. On that date, in the final home game of his career, he scored 17 points in a 77-49 Cowboy blowout of Iowa State. During the Reeves Era, OSU had a home record of 49-4.
The renovated and expanded Gallagher-Iba Arena, Reeves said, is "louder than what I thought it would be, but I still like the old Gallagher-Iba better. I guess that's just from playing in it.
"I didn't want to go back to Gallagher, for my first game, when they were playing Texas South Southern A&M or whatever," Reeves added. "I waited until there was a good game -- OU."
After Jan. 14, Reeves became a courtside fixture at Cowboy games. He attended six more home contests and even drove to Norman for the Feb. 16 Bedlam rematch (another OSU victory). He attended each of the Cowboys' games in the Big 12 Tournament and NCAA Tournament (including the Final Four loss to Georgia Tech in San Antonio).
"For years, we invited him to see some games. He just wouldn't do it," Eddie Sutton said. "For years, he was the world's worst at returning phone calls. Once he finally got up there, and saw the reception and how everybody felt about him, he really became a presence once again. It's been really good."
Reeves said he hasn't yet been contacted by OSU officials who might want him involved in fund-raising efforts.
"Anything is possible, you know," Reeves said. "There is a mega-ton of potential there. I haven't been approached, but that's probably because I wasn't around for a few years."
As a senior at Class B Gans High School (where the Grizzlies basketball team now plays in Bryant "Big Country" Reeves Fieldhouse), Reeves averaged 32 points and 19 rebounds. The Bob Knight-coached Indiana program offered a scholarship to him, but Reeves says Oklahoma State was an easy choice.
"I didn't know if I could handle Bobby Knight, to be honest with you," Reeves said. "Great coach, but a different style.
"I had every ambition of playing right away at OSU. It was a perfect situation -- a great squad that needed a center, with one of the best coaches in the country. What more could a high school kid want?"
Nicknamed "Big Country" by Cowboy teammate Byron Houston, Reeves as an OSU freshman rapidly evolved from a clumsy giant into a starter and difference-maker. Until the Cowboys traveled to New York for the Preseason NIT semifinals and championship games, Reeves had never been in an airplane.
As a sophomore, he was the Big Eight player of the year. He shot 62 percent from the field and averaged 19.5 points and 10 rebounds, and was the first player since Kansas' Wilt Chamberlain in 1958 to lead the Big Eight in those three statistical categories. Reeves was a three-time All-Big Eight first-team selection, and as a senior he averaged 21.7 points and again was voted the Big Eight player of the year.
Looming most prominent among Reeves' highlights were the halfcourt shot he sank in a 1993 overtime triumph over Missouri and his backboard-shattering dunk during a 1995 Final Four practice in Seattle.
"If you were going to choose one guy overall as the best in Oklahoma State basketball, Bryant Reeves would be the one that you would choose," Eddie Sutton said. "He was a real joy to coach because he improved so much that first year. But between that first and second year, the progress he made was unbelievable."
Bryant and April had been classmates at Gans, but they didn't fall in love until April transferred from Eastern State College to OSU for her junior year of study. They were married in July 1995 -- about a month after the NBA expansion Vancouver Grizzlies drafted Reeves with the sixth pick overall.
"It was exciting," April Reeves recalls. "We were newlyweds and we both had a lot to learn. That first year was tough, with us being so far from home, but Vancouver is a wonderful city.
"I do miss the NBA, but now with three kids, I enjoy being at home. It was fun while it lasted."
While with the woeful Grizzlies, Reeves averaged 16.2 points during his second season and 16.3 as a third-year player, but knee and back injuries took their toll as his scoring dropped to 10.8 in 1998-99, 8.9 in 1999-2000 and 8.3 in 2000-01. It became fashionable to bash Reeves as being an overpaid underachiever, but when he was healthy, he was a productive and occasionally prolific NBA center. In 1998, he had a career-high 41 points, along with 12 rebounds, at Boston. That same season, he totaled 35 points and 14 rebounds against the New York Knicks.
Reeves was thrilled when the Grizzlies moved from Canada to Memphis, a 3 1/2-hour drive from Gans, before the start of the 2001-02 season. But back pain kept him sidelined during the first three months of the season, and he retired in January 2002.
"I relied on other players to make me better," Reeves said of his inability to become a consistent 20-point scorer. "I don't handle the ball and can't get my own shot. On an expansion team, we didn't have real great players to make me better. That hurt me some. When you're the only (offensive threat), it's easy to be taken out of the game by the defense.
"The traveling part of the NBA was nice for a while, but it got old real fast. You'd go to cities, and you'd be lucky if you were there for 24 hours. You spend a lot of time by yourself. When I hurt my back, I went to see several doctors. I wanted to keep playing. I wanted to play 10 or 12 years. But I didn't have any choice -- the back injury did it. I was finished."
At some point, Reeves will be forced to undergo major back surgery for the repair of three damaged disks. "Some days, I feel no pain at all," he said. "Other days, I can lift a pencil and it really hurts me."
Reeves and his father, Carl, are partners in the Reeves Cattle Company. Reeves' best friend is Terry Collins, a former OSU teammate who received an engineering degree and resides in Chicago. Reeves remains passionate about deer hunting and fishing. In May, Collins joined Reeves, Reeves' father and one of Reeves' brothers for a week of fishing at Lake Tenkiller.
"We caught 1,300 white bass," Reeves reported. "We filleted every one of them. We had about 650 pounds of fillets."
With his money, Reeves could have established residence anywhere in the world, but he says there was never any doubt that he and April would settle with their kids on the Arkansas River.
"This is home," Reeves said as he gestured toward the river. "Look around. Why would I ever want to leave?"
---