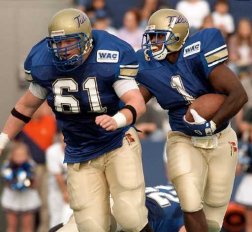 Tulsa's Steve Wiedower (61) won't be talking to his friend, OSU's Jon Vandrell, until after Saturday's game.
---
Wiedower, Vandrell will keep all talk hush-hush until after TU-OSU game.
Steve Wiedower and Jon Vandrell have made a pact.
They've decided not to talk to each other again until after Saturday's Tulsa-Oklahoma State football game.
There wouldn't be any percentage in it. The best friends and former Union High teammates are on opposite sides now.
Wiedower, a senior, is in his third season as TU's starting right guard.
Vandrell, a redshirt junior, played two years at Northeastern A&M before transferring to OSU last year. He'll make his first start in Division I-A football when the Cowboys visit Skelly Stadium for an 6 p.m. kickoff.
Neither friend wants to get carried away with emotion in what could be one of the most bitterly contested games in the series.
We don't want to start fighting," Wiedower said. "Jon's my best friend in the world, probably. I just told him it's probably best if we don't talk until the game's over."
"It's just a game, but right now while we're in college, it's a big game and we don't want all this hype around it to ruin our friendship in any way," Vandrell said.
Wiedower and Vandrell have been trash-talking all summer. Even though Vandrell stayed in Stillwater to work out, he hung out with Wiedower and his TU teammates during weekend trips home.
"Every time he came home, he'd have something to say," Wiedower said.
Vandrell remembered it as more of a two-way street.
"We'd all poke fun at each other," he said. "Usually, one of their guys would say something. I knew they had their confidence up with their new coach, so I'd let them talk. But we all remember (OSU's 46-9 victory in Stillwater) last year."
Actually, several players on both sides have gotten into the act. Van drell got acquainted with TU nose guard Jeff Hewitt (who will line up opposite him Saturday night) and introduced Hurricane players to his college roommate, OSU left guard Jeff Machado.
Vandrell, Wiedower and OSU tight end Bryan Blackwood are Union grads who played on the Class 6A state runner-up team in 1994.
Vandrell called Wiedower on Sunday night to offer solace for the Hurricane's season-opening 30-9 loss at North Carolina, but the conversation quickly turned to Saturday's game.
"We were both excited," Vandrell said. "We started hooping and hollering at each other and I told him it's a good thing I don't play defense any more (not since high school), because we'd have to get after it a little bit. We'd both have to pack our lunches."
That's just about the time they decided they had better agree to disagree. They want this friendship to survive past Saturday.