Tulsa World recruitment opportunities
Reach local job seekers on Northeastern Oklahoma's largest online jobs platform. Learn more about the advertising opportunities on tulsaworld.com/jobs.
---
TULSAWORLD CLASSIFIEDS
Printed daily (see rate card for daily line rates)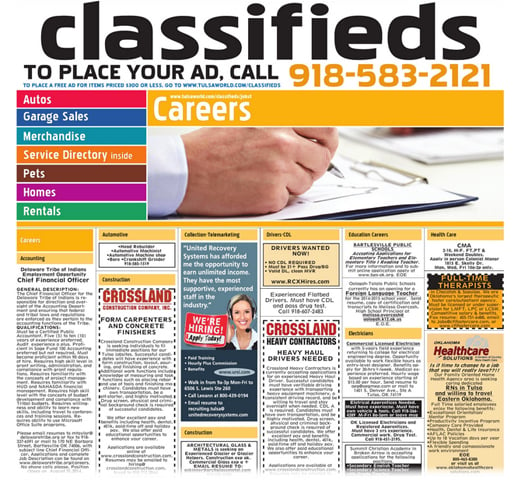 ---
JOBS TV VIDEOS
At $149/month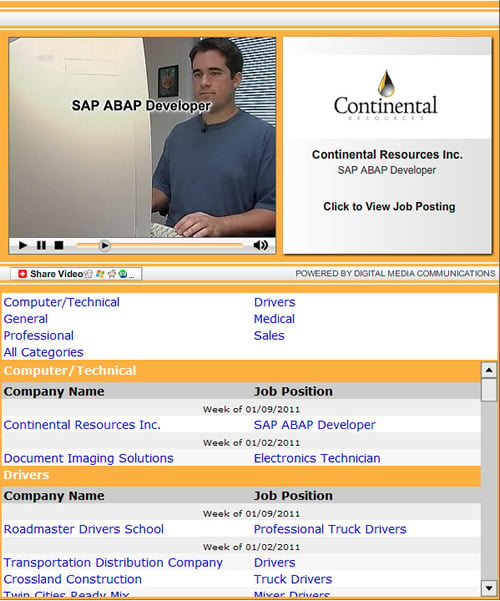 ---
CAREER FAIRS & VIRTUAL CAREER FAIRS
Each year the Tulsa World hosts two career fairs - the largest events of their kind in the region. The events are open to all categories of business, and most also include a special featured healthcare section. Recent fairs have each featured between 75 and 120 organizations and attracted more than 2,500 job seekers. Every physical fair includes an online component, and the Tulsa World periodically hosts virtual-only events throughout the year. Contact your recruitment representative for more information on how to participate. For more information, call 918-732-8140 or email careerads@tulsaworld.com
---
Total Talent Reach- Hire Faster, Better and for Less!
With Total Talent Reach your post is distributed on the largest recruitment advertising network in North America reaching more job seekers across thousands of job sites.
---
Candidate Resume Boost
Instantly connects you with qualified passive candidates- thanks to Real-time Job Matching. With Candidate Resume Boost, qualified candidates from our resume database are delivered instantly to your online account, ranked and graded.
---
Social Boost
Distribute your posting on relevant career channels on Twitter based on the job type & location as well as appears as targeted ads to relevant job seekers on Facebook.
---
College Boost
Offers additional exposure on job sites targeted at college students and industry trade sites that are relevant for entry-level jobs, perfect if you are looking to hire recent graduates.
---
Diversity Boost
Distribute your job posting to leading diversity job sites, a perfect fit if you are looking to diversify your workforce or ensure you are complying with guidelines and requirements when it comes to hiring.
---
Featured Jobs
Featured jobs provides additional exposure by highlighting your job in the Featured Jobs Widget on our site.
---
Featured Employer
Showcase your company with a Featured Employer ad promoted on our job site home page. Featured Employer logos links to an employer landing page with your company's full description, website address, and your advertised jobs-a great way to build your employment brand.
---
Priority Search
Priority Jobs appear highlighted at the top of relevant search results, offering more prominent visibility and more clicks for your job posting.
---